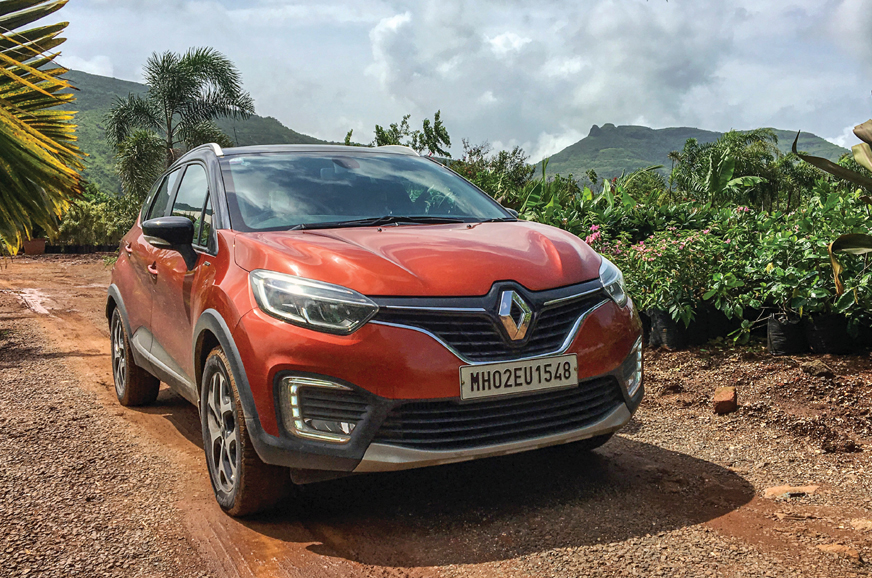 Lately, our Captur's been consuming a healthy number of miles, courtesy of my apartment being relocated further away from office. I now drive at least 60km everyday between home and work – that's close to 1,500km a month! And add to it, of course, the miles accrued through our long weekend drives. Speaking of which, the Captur's been fuelling my wife's newfound obsession with collecting plants. Let me explain how.
There's enough boot space for a spot of impromptu shopping on a weekend out.
Most big nurseries with a good variety of plants are on the outskirts of Mumbai and, more importantly, they are in places that aren't very easy to access. This is where I find the Captur's massive 210mm ground clearance really useful. Then there's the big boot with a collapsible rear bench that falls flat, which my wife finds really useful. It's got enough space for plants as well as travel bags, as we found out on a recent drive to visit some friends in Pune. We'd made a small detour towards Pavna to visit Shubham Nursery. It's like an open-air mall for plants; and what followed was obvious. Not only did we pick some pots for ourselves, we also packed the Captur's boot with greenery to gift our friends.
CAN'T TOUCH THIS: You rarely have to worry about scraping the underside.
All set, we turned towards Pune and were greeted by heavy rainfall, which made the wipers run full swing. I like that these were activated automatically as soon as the Captur sensed drops on the windscreen. The rear wiper was also working hard to ensure good visibility on the rear-view mirror. Even the auto lights worked nicely when passing through the tunnels on the Expressway, without me having to bother to turn them on and off.
FORCE FEEDBACK: The steering kicks back hard over bad surfaces of road.
All was going smooth until we ran into a small technical snag. I realised the Captur was losing power and not pulling as strongly as before. It felt as if it had suddenly lost combustion and was out of breath. A quick look under the bonnet revealed what the exact problem was. The turbo hose was hanging loose because one of the circular metal pins that keep the pipe in place had broken and fallen off. Unfortunately, there are very few places where you can find a layby or garage on the Mumbai-Pune Expressway. This left us with two options – either have the car towed to a garage or improvise. And improvise I did. I simply needed to ensure that the pipe stayed firmly in place through the rest of the drive, avoiding any air leak. Using a metal wire, I positioned and secured the pipe, and voila! We were back in action.
I got the pipe fixed at the Renault workshop at Pune the very next day. It was a quick job and we got the car back in a couple of minutes. Thankfully this was just a small issue for an otherwise hassle-free and reliable experience with the Captur. It's also proving to be fairly comfortable on long journeys, like this Pune trip. It's time I put it through its paces on a much longer road trip to some place I haven't explored yet.
Any suggestions?
Also see:
2018 Renault Captur long term review, second report
2018 Renault Captur long term review, first report
Credits: https://www.autocarindia.com